Thanks so much for joining me for another great author interview this week! My special guest this week is suspense author, Amy Wallace. Amy's just released a brand new book, Hiding in Plain Sight, that sounds like it's my kind of book--a little bit Amish with a whole lotta suspense!
I hope y'all have a great time today getting to know Amy better. :o)
Welcome, Amy!
***
Not including writing, what was your first job?
I was a nanny.
What is one movie that you could watch over and over again?
It's a tie between
Live Free or Die Hard
and
The A-Team
.
Action movie gal, huh? *grin*
If you could have any one superpower, what would it be?
Psychokinesis--the ability to control things with my mind. It would sure come in handy on cleaning day.
What food do you love, even though you know you shouldn't?
Chocolate-drenched desserts, especially Death by Chocolate.
Which magazine do you pick up when you're stuck in a waiting room?
Southern Living.
Have you ever met anyone famous?
Steven Curtis and Mary Beth Chapman. I worked as a decisions counselor for one of his Atlanta shows and got to go backstage and hang out for a while. They're such great people.
I imagine so. :o) I've been a fan of his music since I was a young girl.
What did you do growing up that got you into trouble?
Nothing I want in immortalized in print.
Oh, come on, Amy!! I promise we won't tell anyone...really. *wink*
You're next in line to audition for American Idol. What song do you sing for the judges?
O Danny Boy
. I'm part Irish and learned to croon this one way back when.
***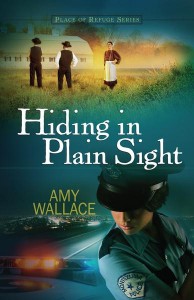 Amy, thanks so much for stopping by today so we could get to know you better!
Folks, if you'd like to connect with Amy online, visit
her website
, or find her on
Twitter
,
Facebook
, or
Goodreads
.
And just like every week, we've got a giveaway, too! If you'd like the opportunity to win a copy of Amy's newest book,
Hiding in Plain Sight
, simply fill out all the fields in the form below no later than Tuesday, 4/17, 11:59pm. A winner will be chosen through third-party site, random.org. Odds of winning are based upon number of entries, and contest eligible for US addresses only. I am not responsible for lost or damaged prizes.
**Many thanks to Jeane with Wynn-Wynn Media for all her help coordinating today's interview.